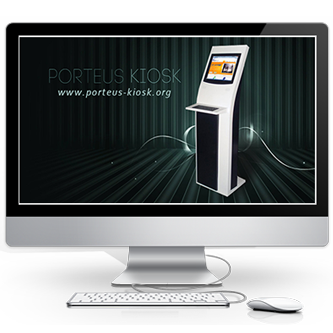 What exactly is Porteus Kiosk?
Porteus Kiosk is a free to use, lightweight Linux operating system which has been restricted to allow only use of the web browser. Furthermore, the browser has been locked down to prevent users from tampering with settings or downloading and installing software. When the kiosk boots it automatically opens Firefox or Google Chrome browser to your chosen home page. The history is not kept, no passwords are saved, and many menu items have been disabled for total security. When the browser is restarted, all caches are cleared and it reopens automatically with a clean session to ensure no trace of history is left.
Porteus Kiosk is a full operating system which replaces Windows or any other OS during the installation. While evaluating our product we recommend the installation on removable devices or in a virtual environment. When our system goes into production we strongly advise to install it on a PC hard drive.
Usage and purpose
Our system can be used as internet kiosk or other publicly available web terminal in schools, libraries, cafes, hotels, offices, tourist centers and the like. Another possibility is to use Porteus Kiosk for displaying information, advertisements, pictures or streaming videos to digital signage deployments. It can also act as a diskless (if booted over a network) workstation in companies that use browsers as their main working tool, such as customer support centers.
Hardware requirements
If you are looking for inexpensive mini PC which is powerfull enough to handle kiosk or thin client type system then please check following sites: GeekBuying, NewEgg, Amazon. Mind you need to buy a PC with Intel or AMD CPU.
CPU architecture
Porteus Kiosk can be used on machines belonging to x86_64 architecture (CPU must support 64bit instructions). It should run on every PC available on the market but for best experience we recommend installing it on a hardware which is compatible with open source operating systems. See this link for reference. Please mind that Porteus Solutions does not sell the hardware and you must purchase it from 3rd party retailers. Please query the PC manufacturer about the Linux compatibility before buying the hardware.
ARM devices
ARM devices (Raspberry Pi, Odroid, Orange Pi, etc) are not supported by Porteus Kiosk. Please consider using Intel based Rock Pi X instead (2GB of RAM recommended) as it should work well with our system and is comparable in price, performance and features to the ARM boards.
RAM and Storage
Porteus Kiosk requires at least 1 GB of RAM and 1 GB of storage space (2 GB if peristence is used). It can be installed on CD/DVD, USB flash drive, hard drive, SSD/eMMC devices, or any other bootable storage media such as Compact Flash or SD/MMC memory cards. Porteus Kiosk is extremely lightweight in terms of size and used resources. The default image is around 100 MB while the size of your custom kiosk ISO will depend on your choice of the browser and extra components such as Citrix Receiver, printing, additional fonts and other.
While evaluating our product we recommend the installation on removable devices or in a virtual environment. When our system goes into production we strongly advise to install it on a PC hard drive for maximum reliability. Reliable storage is especially important when remote management or automatic updates services are enabled.
Touchscreen
Touchscreen hardware is supported out of the box if opensource drivers are included in the Linux kernel (please query manufacturer directly if you are not sure if they support Linux platform or not). Certain models do not work or have limited functionality so integration of the proprietary drivers like ELO, eGalax, PQLabs, POSTouch, Displax, GeneralTouch or other with our system is necessary. This could be done by following our kiosk modification guide or we could do this job for you through the commercial customized builds service.
Printers
Porteus Kiosk supports over 8000 inkjet, laser and thermal printers attached directly to the kiosk with usb, parallel or serial cable or connected through the network. A full list of currently supported models can be found under this link.
Number of system installations including Porteus Kiosk variant "Cloud", Porteus Kiosk variant "ThinClient" and Porteus Kiosk Server. Statistics are updated every 10 mins.
Sample deployments are presented under this link.
| Today | This month | This year | Total |
| --- | --- | --- | --- |
| 116 | 1,676 | 53,057 | 647,380 |