HOW DOES IT WORK
Firstly, the initial wizard will show up during the first kiosk boot and ask you to configure network connection: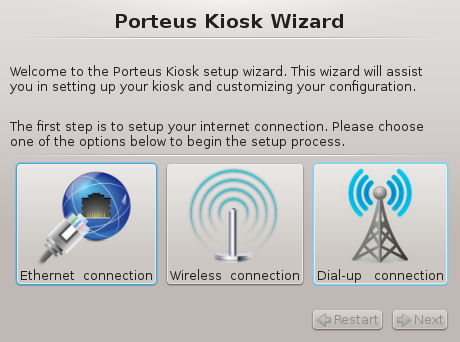 Internet access is required as the wizard included in the ISO has crippled functionality and needs to download a full version from our server. This is to ensure that we can fix all reported bugs and implement new features in real time without releasing a new kiosk ISO. Some complicated features may require implementation of new functions in the core system - in such cases, a new kiosk version is released along with an updated wizard.
'Kiosk Wizard' is divided into main expandable sections: Network Settings, Firefox Settings, System Settings, Power Saving Options, Additional Components, etc :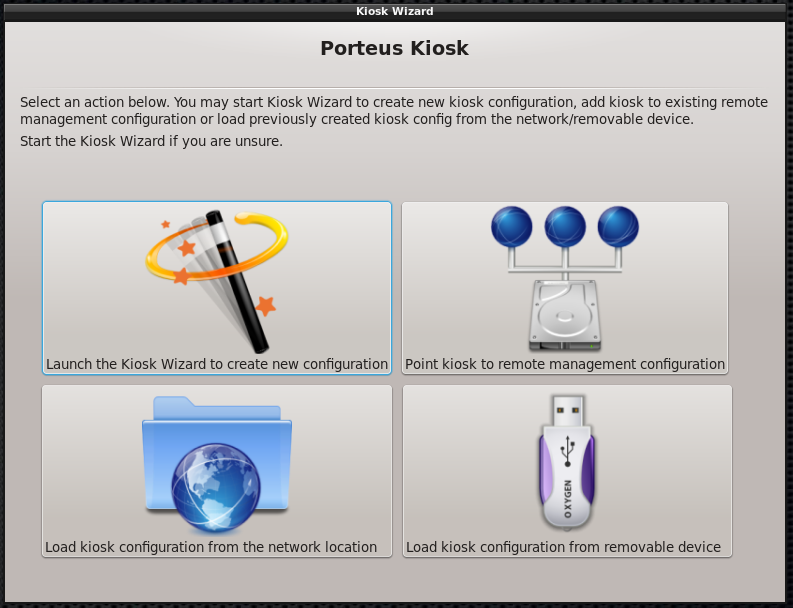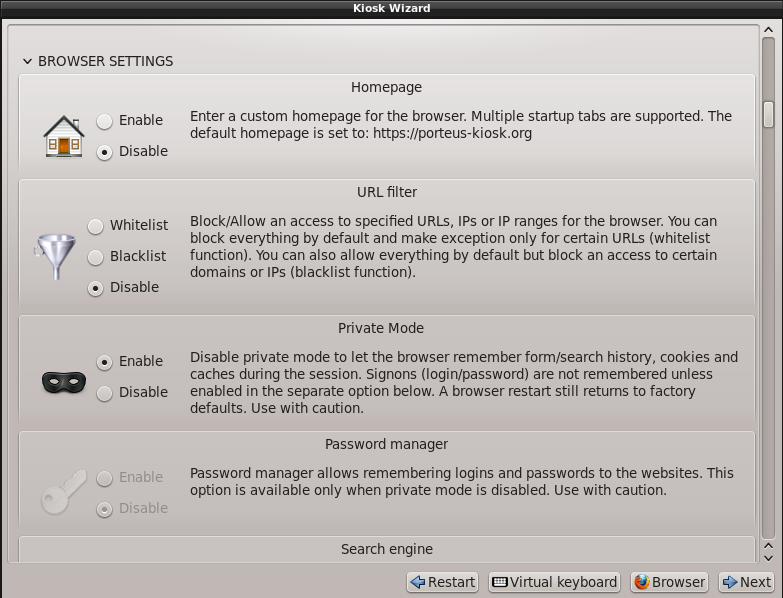 Each option is well documented with descriptions and tooltips. Please hover the mouse pointer over a certain function or field to see additional informations like in the 'remote printer path' example below: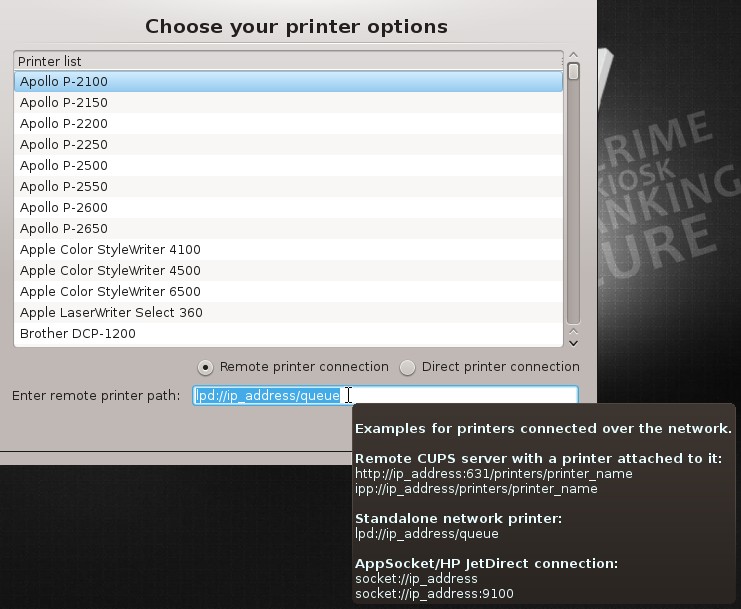 'Test' buttons allow you to check features in real time so please use them whenever possible. Right mouse click is disabled permanently in the kiosk but it is possible to launch a browser from the bottom of the wizard UI and copy data like e.g. homepage, list of IPs to be whitelisted, wallpaper URL directly to the input windows. Please navigate to the webpage of your choice, mark the text with a left mouse click to copy it to the buffer and paste it on the input field a middle mouse click. Please use Alt+Tab key combination to switch between the browser and wizard windows.




Once the configuration part is finished the user is presented with the final config which will be used to configure the kiosk when installing on writable media. It is possible to edit the config manually but please do so with caution. It's better to restart the whole configuration process instead of guessing the parameter names: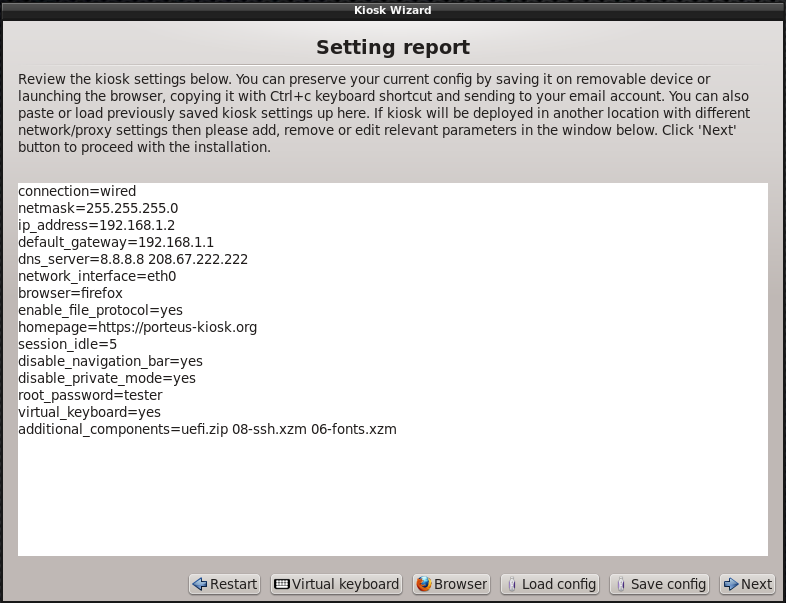 'Automatic Updates' page displays the PC ID which will be used to identify the PC in case the user decides to subscribe to this valuable service: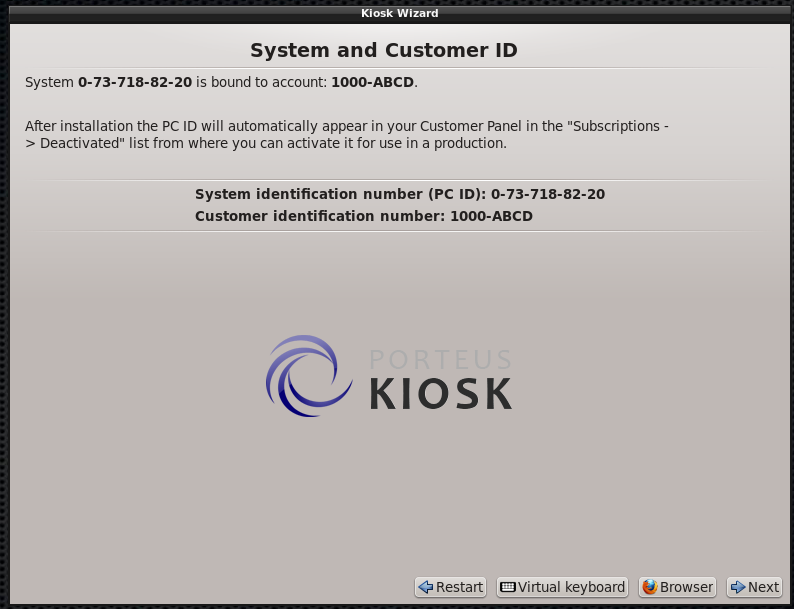 On the installation page you will be able to choose the drive (but not partition as kiosk must be burnt on the device) where the kiosk will be installed. It is important to identify and select the correct media so please perform this task carefully: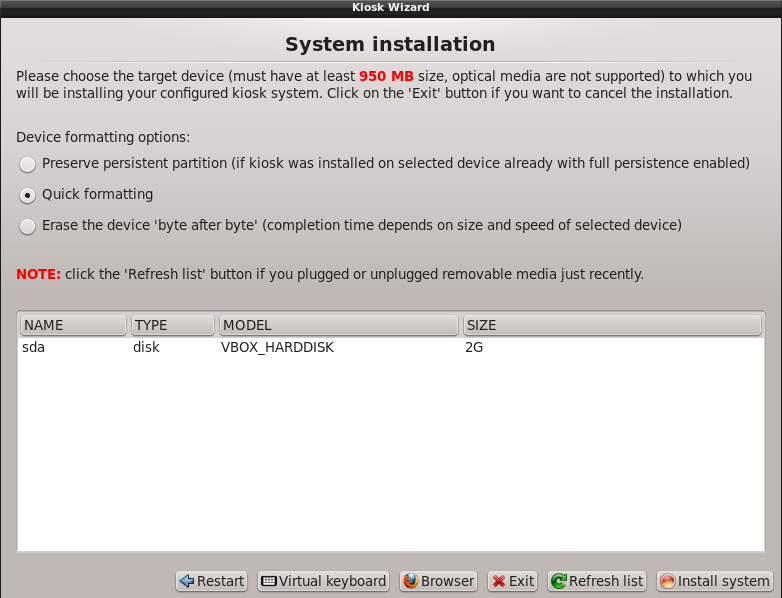 Once all choices are made the wizard will download additional components from our server, create the ISO, burn it on the selected device and perform a reboot. Please make sure you remove the installation media otherwise the kiosk wizard will be started again: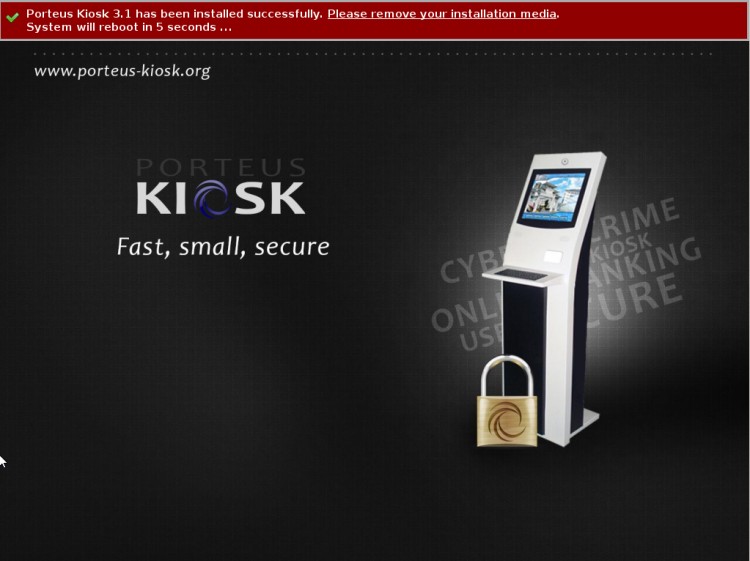 After a reboot your customized kiosk will be ready to use.


Please check out the linked video presenting 'tips and tricks' available when using Kiosk Wizard: link