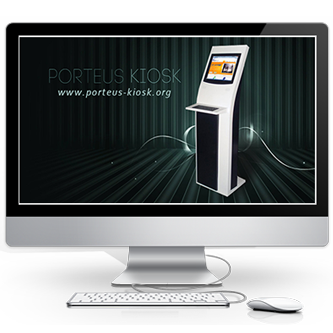 Download Porteus Kiosk Today
Porteus Kiosk is released as a standalone 'hybrid' ISO image which can be burned on a CD/DVD disc or any other bootable media including usb sticks, hard drives, SSD/eMMC devices, removable SD/MMC cards, etc.
Burn to USB Stick
Windows/Mac users can burn hybrid ISO to a flash device using special applications such as Win32DiskImager or Etcher. Users have reported that some burning programs are not compatible with Porteus Kiosk (e.g. Rufus or UNetbootin) so if booting fails then please use Win32DiskImager or Etcher apps which are proven to work.
Linux users can install a hybrid ISO to a flash device using the 'dd' command. For example:
sudo dd if=Porteus-Kiosk-4.0.0-x86_64.iso of=/dev/sdb
where 'dev/sdb' is the target device.
Note that above command will disable any other bootloaders, overwrite all existing data on this device, and it will not work if you specify a partition number (e.g. /dev/sdb1), as 'dd' must start writing to the Master Boot Record of the device itself. Once you have executed this command, the drive will be bootable - no further steps are required to complete the installation.
Burn to CD/DVD
Download the Kiosk ISO and burn it to a CD or DVD disc as an ISO image file using your favorite CD burning software. Most CD/DVD creation software has this function. Please be aware that this is not the same as simply burning a file to disk or creating a 'data disk'. The end result should not be a disk that contains the .iso file, e.g.'Porteus-Kiosk-3.1-i486.iso'. The end result should be a disk that contains three folders: boot, docs and xzm. If your software doesn't have this option, try downloading and installing a free application such as ImgBurn.